UNDERTAKING A SIDEWALK SAFARI WITH CREATIVE MISSIONS
In the introductory post dedicated to Sidewalk Safari ©, I illustrated three safari styles that represent the attitude and mood to be adopted during your excursion. One is the modern more relaxed and reflective, the postmodern which is most interactive and often playful, and finally the contemporary, which is more libertarian one.
The Sidewalk Safari © is an excursion planned according to your interests and needs, to practice one you must first determine the style of the experience, and then be guided in choosing one or more creative missions. Let's see what they are:
The creative missions
The creative mission is what transforms a normal city walk into a Sidewalk Safari ©. These are activities designed to relate with the environment. Below, in short, an overview of ideas that you can tackle individually or in multiple combinations.
The photo safari
Among the most versatile ideas, it is suitable for all types of Sidewalk Safari ©. During the itinerary, photos are collected according to a predetermined challenge.
The treasure hunt
The classic outdoor game in which certain places, monuments or objects must be found.
Geo Catching
It is a technological (and more intriguing) evolution of the treasure hunt.
Mood Trail
A path faced with Psychogeography.
Creative mapping
It is a journey where specific points are mapped, or where a path is taken following a chosen mission.
Random Safari
This is a safari where the path is based on chance where directions or missions are randomly selected.
L'Urban Field Notes
Path with notebook in which you draw (or for those who are not capable of it, in which you collect images with words).
Guerrilia art
An itinerary in which creative actions are practiced following the Guerrilla art movement.
Urban art tour
A safari in search of sighting of Street Art works.
Each creative mission has various options that you can decide according to the city you will visit and the time available.
SIMPLE INTERACTIVE MISSIONS
In the photo safari your task will be to collect photos according to a list that you will determine. You can draw up a list of monuments, details to be found (a statue, a road sign, something red …) or follow an Instagram challenge.
Treasure Hunting, being an active challenge, is recommended for more "adventurous" (postmodern and contemporary) Sidewalk Safaris, it can be used in combination with photo safaris or Instachallenges, it's up to your creativity.
Geocatching is a way of exploring the area by searching through GPS (and apps) for specific points where there are hidden objects. To become a geocatcher click: What is Geocatching
MISSIONS WHICH FOCUS IS THE ITINERARY
For many, Psychogeography is an unknown discipline, if you are curious about what it is and want to organize a themed creative mission, I recommend to read my detailed articled along with game variations. What is Psychogeography.
Creative mapping can be used in various Sidewalk Safari ©, from psychogeographical activities, to simple tracing of a route, field notes, creating a territory infographic, or diagrams of annotated thoughts.
Random Safari has two-variants. One dedicated to the itinerary, where the directions of the route are decided with the use of dice (example: with even numbers turn left and odd right). The second is dedicated to a creative mission chosen at random, a variant that we recommend to the more experienced. In some cases difficulties may arise, for example, if the mission is in conflict with the chosen style, a creative solution must be found. Or choosing to combine multiple creative missions in a single safari could be hard to accomplish.
MISSIONS CENTERED ON ART AND CREATIVITY
Favored by Flâneur style, in Urban Field Notes the mission is to create a reportage with words or images, following one's inspiration or a list. The notebook can be used for urban sketching too.
A "subversive" safari is the Guerrilla-themed one in which during the journey you will "plant" small creative objects in the city. For ideas we recommend the book by Keri Smith  The guerrilla art kit. Or our dedicated pinterest board that you find 👉🏻 HERE.
The Urban art tour is a simple safari in search of graffiti, stencils art and artistic stickers. Organized tours exist in many cities.
WHAT TO DO AFTER YOU HAVE CHOSEN YOUR CREATIVE MISSION
Once the mission (or more) have been identified, it's time to organize your safari. Each of them has its own personal preparation.
In the case of the photo safari, with which photo camera will you face the excursion (analog, digital, instant, smartphone, Lomographic or disposable?) What will be the shots you want to "collect"?
What art works or messages do you want to plant around the city? Do you need to prepare them?
If you are going for a Geocatching, have you downloaded the app? Do you have a pencil?
Dedicating yourself to the preparation for a Sidewalk Safari © is an important part of the adventure itself, and it facilitates you in the last step in determining the route.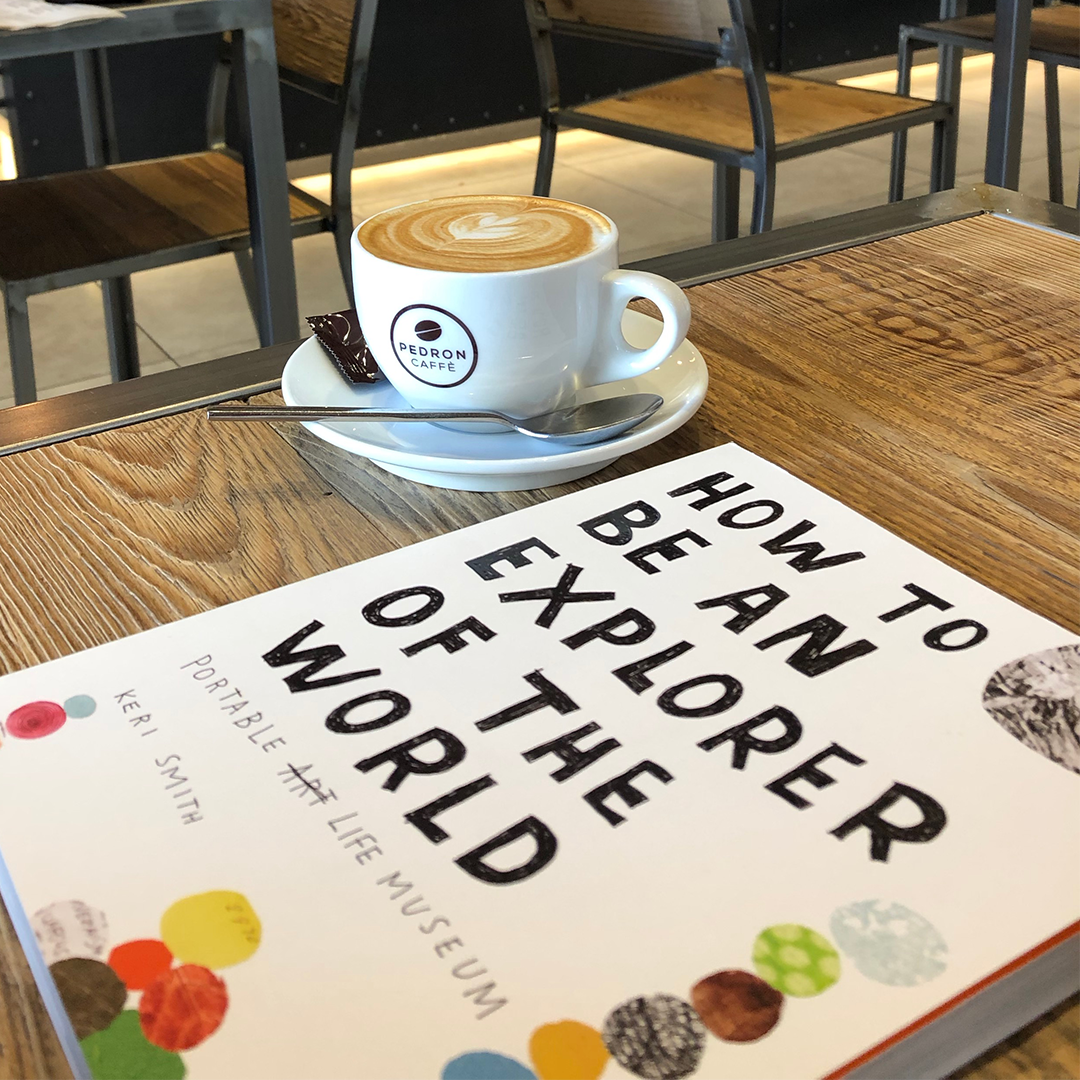 LET'S KEEP IN TOUCH
Your feedback is very important! Let me know how your missions went or if some of them need more insights …
See you in the comments ✨!
⚡️Let's go and do interesting things!⚡️